V4ink Knowledge Base
Updated: June 16, 2022
How to install v4ink HP 85A CE285A Toner Cartridge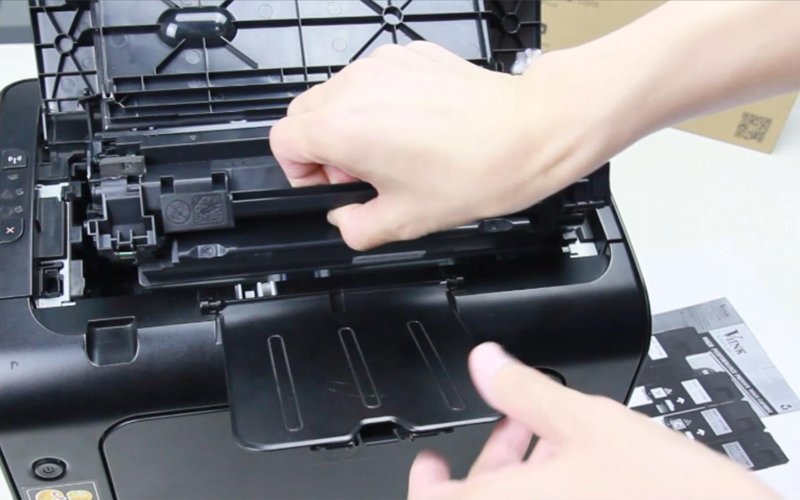 HP 85A is a black toner cartridge, which is commonly used in HP LaserJet and LaserJet Pro series printers. It can provide you with highly professional printing documents without worrying about the cost of toner. It is an indispensable and perfect assistant in the office.
This guide will show you how to install the toner HP 85A. Just follow the steps provided below, and you will be able to skillfully replace and return your printer to normal use. Let's follow the video step by step!
If the above video cannot be viewed, you can also follow the following steps: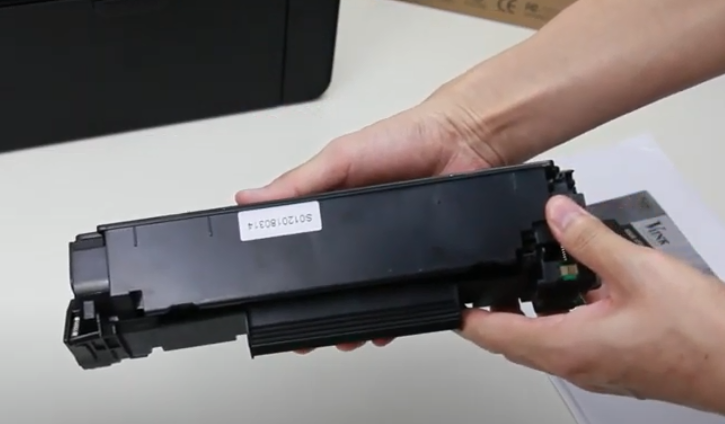 Before installing the HP 85A toner cartridge into the printer, please check whether all the sealing tape and protective cover are removed.
1. Open the front door of the machine.
2. Insert the HP 85A toner cartridge with the handle facing straight up (install the toner cartridge to the end until you hear a small click).
3. Close the front door and now you can start to print.
---
Specifications of v4ink compatible HP 85A Cartridge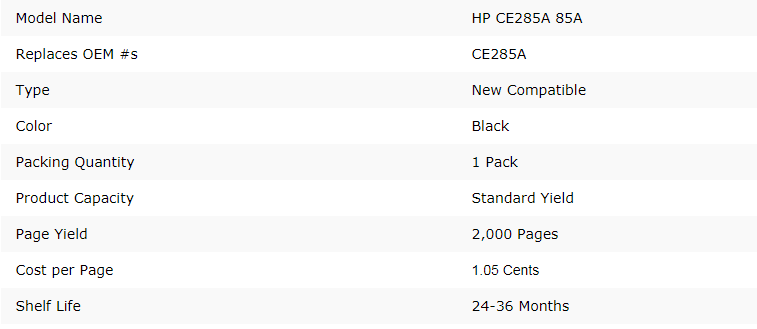 ---
What is the difference between v4ink HP 85A and OEM 85A?
Page Yield
V4ink hp 85a prints 2,000 pages per cartridge, while OEM 85A can only print 1,600 pages per cartridge. V4ink compatible CE285A prints 400 pages more than OEM one.
Compatible Printers
OEM 85A can only work with the following LaserJet Pro printers:
HP LaserJet Pro P1102w Printer CE657A#BGJ
HP LaserJet Pro M1217nfw Multifunction Printer CE844A#BGJ
HP LaserJet Pro M1212nf Multifunction Printer CE841A#BGJ
HP LaserJet Pro P1102w Printer CE658A#BGJ
V4ink compatible 85A can work with the following printers:
HP LaserJet Series: M1120, 1120n, M1522, M1522n, M1522nf, M1218, P1005, P1006, P1100, P1503, P1504, P1505, P1505n, P1606, P1002, P1003, P1004, P1007, P1008, P1009;
HP LaserJet Pro Series: M1130, M1134, M1137, M1138, M1139, M1214, M1219, P1102, P1102w, P1566, M1132, M1212nf, M1217nfw, P1560, P1600, M1136, M1210 MFP;
i-Sensys Series: MF4410, MF4430, MF4570, MF4420;
LBP Series: 3010, 3018, 3050, 3100, 3108, 3150, 3250, 6000, 6018, 6020, 6030, 6200.
Cost per page
| | | |
| --- | --- | --- |
| | OEM HP 85A 1 Pack | v4ink HP 85A 1 Pack |
| Cost | $79.99 | $20.99 |
| Page Yield | 1600 Pages | 2000 Pages |
| Cost per Page | 4.99 Cents | 1.05 Cents |
In conclusion, using v4ink compatible 85A toner cartridge will save your cost and get more printing pages than using OEM products.
If you have any further questions during using v4ink compatible 85A toner, please feel free to contact us by email: support_team@v4ink.com or join our Facebook group to get more details and promotion of our products.
Related Products