Operation Guide
Updated: July 11, 2022
What if Brother TN450 toner cartridge is not recognized?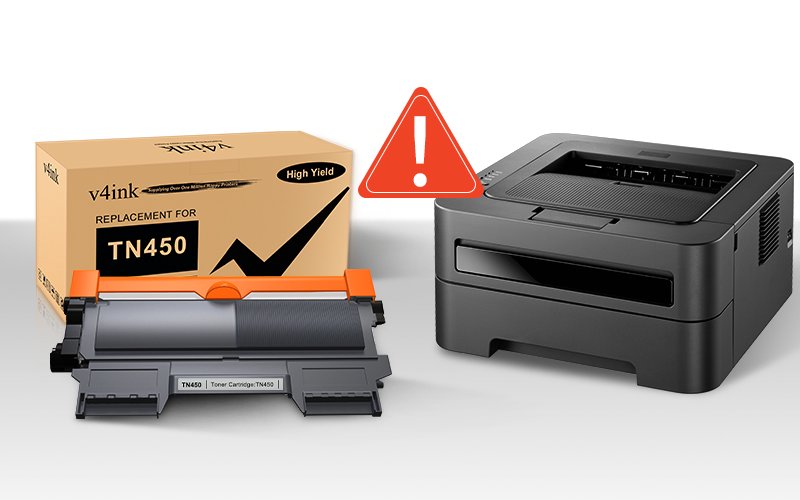 Have you ever just installed a new TN450 toner cartridge into your printer, but the printer still displayed the "Replace Toner" warning? At this point, you may think that the new cartridge is defective. But not really, here are some steps for you to clear the error.
Make sure to buy a correct toner cartridge
When your printer asks you to replace toner once installing the new toner cartridge, you should double make sure if you purchase the correct cartridge for your printer. Each printer must use the corresponding consumables, otherwise it will cause unfit or unrecognized issue. Therefore, please confirm that your printer model is in the below list before using Brother TN450 toner cartridge.
DCP Printer Series: DCP-7060, DCP-7060D, DCP-7065DN, DCP-7070DW, DCP-7055, DCP-7057, DCP-7055W;
HL Printer Series: HL-2130, HL-2132, HL-2220, HL-2230, HL-2240, HL-2240D, HL-2242D, HL-2250, HL-2250DN, HL-2270DW, HL-2280DW, HL-2275DW, HL-2135W, HL-2240N;
MFC Printer Series: MFC-7360, MFC-7360N, MFC-7460, MFC-7460DN, MFC-7860DW, MFC-7240, MFC-7365DN, MFC-7460N;
FAX Printer Series: FAX-2840, FAX-2940;
Intellifax Printer Series: IntelliFax 2840, IntelliFax 2940.
Make sure Brother toner cartridge is installed in place
For Brother laser printers, Brother cartridges need to be put into corresponding Brother drum units before installing into the printers. Brother TN450 cartridge should be inserted into the slot of DR420 drum unit and the cartridge must be installed in place so that the printer does not recognize the cartridge or the drum.
For v4ink black toner cartridge, it should be combined with v4ink DR420 or Brother DR420 drum. If it is inserted into a drum of a third-party brand, there is high chance that the cartridge will not be detected.

How to install a toner cartridge correctly?
Another situation is that the cartridge is not properly installed into your printer, which will cause unrecognized issue. The new cartridge is covered by an orange protective cover to protect toner from leaking during transportation. Before installation, you need to remove the protective housing and don't forget to install the TN-450 into DR-420 drum. Then, when installing the (toner + drum), it needs to be pushed to the end until the assembly can no longer move after shaking. Here are the installation steps of TN450 toner cartridge for your reference.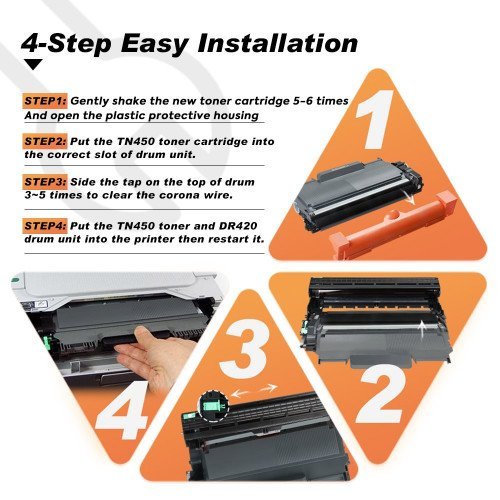 What if TN450 toner cartridge is not detected?
If you have checked the above steps and your printer still display the "replace toner" error message, please check the reset gear of the toner cartridge. If the reset gear is not in the correct position, the cartridge will not be recognized. How to reset TN450 toner cartridge? Please follow the video to check the reset gear and reset the cartridge.
Related Products