V4ink Knowledge Base
Updated: July 18, 2022
The Ultimate Guide of Brother TN420/TN450 Toner Cartridge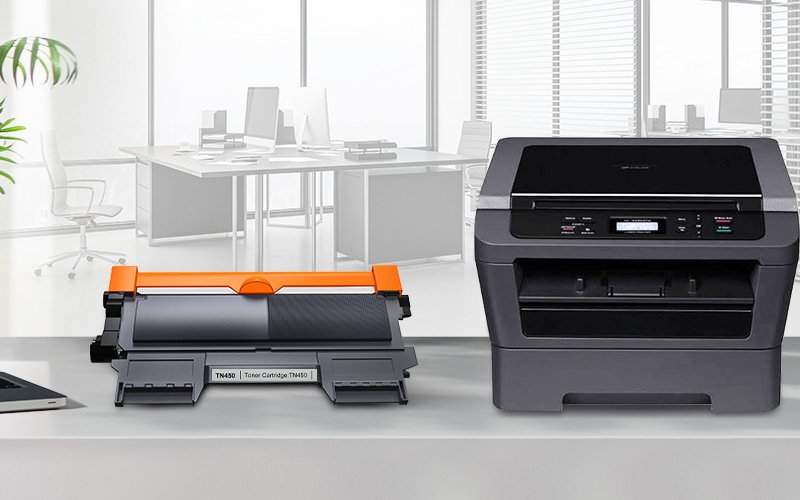 Brother TN420/TN450 is one of popular models of toner cartridges. In this guide, we cover all basic information about TN420/TN450, including its properties, installation steps, troubleshooting methods and so on to help you better select and smooth use the cartridge. Let's meet Brother TN420/TN450 toner cartridge!
What is the difference between Brother TN420 and TN450?
The biggest difference between TN420 and TN450 is their page yield. They are the same physical size and fit in the same way, but the TN450 cartridge has more toner in it and can print more pages.
Brother TN420 Toner Cartridge can print up to 1200 pages
Brother TN450 Toner Cartridge can print up to 2600 pages
Therefore, the original price of TN450 toner cartridge is higher. But the retail price doesn't mean TN420 is more worth buying than TN450 because of the difference of the page yield. The cost per page is necessary to be calculated to know it.
Cost per page of Brother TN420 and TN450 toner:
OEM Brother TN420 Toner Cartridge 1 Pack
$39.98/1200 pages = 3.3 cents
OEM Brother TN450 Toner Cartridge 1 Pack
$58.49 /2600 pages = 2.2 cents
TN450 high-yield cartridge cost less per page than TN420 cartridge. It is obvious that the TN450 is more suitable for users with large printing needs.
Which Brother printers are compatible with TN420/TN450?
Brother TN-420 and TN-450 are compatible with same printers, which are:
DCP Printer Series: DCP-7060, DCP-7060D, DCP-7065DN, DCP-7070DW, DCP-7055, DCP-7057, DCP-7055W
HL Printer Series: HL-2130, HL-2132, HL-2220, HL-2230, HL-2240, HL-2240D, HL-2242D, HL-2250, HL-2250DN, HL-2270DW, HL-2280DW, HL-2275DW, HL-2135W, HL-2240N
MFC Printer Series: MFC-7360, MFC-7360N, MFC-7460, MFC-7460DN, MFC-7860DW, MFC-7240, MFC-7365DN, MFC-7460N
FAX Printer Series: FAX-2840, FAX-2940
Intellifax Printer Series: IntelliFax 2840, IntelliFax 2940
---
How do I install TN420/TN450 toner cartridge?
Both the Brother toner cartridges and drum units need to go into your printer, but they are separate and specific cartridges are fit to specific drum units. For TN450 toner cartridge, it must to be inserted into DR420 drum unit before installation. And here are the complete installation steps to help you.
1) Gently shake the TN450/TN420 5-6 times, and remove the plastic protective housing.
2) Put the cartridge into the correct slot of DR420 drum unit.
3) Slide the tap on the top of drum unit 3-5 times to clear the corona wire.
4) Put the combo pack into the printer and restart the printer.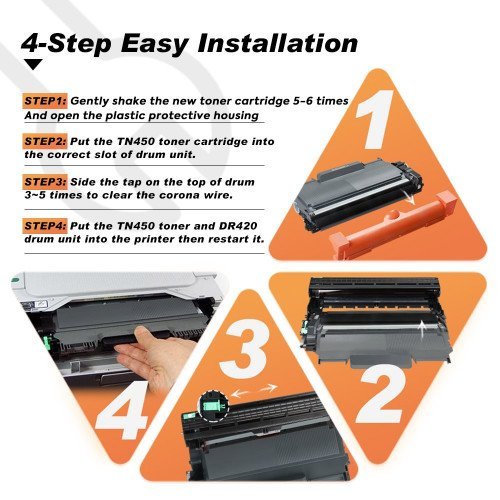 Why does the cartridge need to be installed into the drum unit?
A drum unit is not only a carrier for placing a cartridge, but also helps to fix the toner of the cartridge to the paper, and it has longer life than a toner cartridge. Due to the higher page yields of a drum unit, a drum needs to be replaced only after 3-5 toner cartridges are used up normally. As far as DR420 drum concerned, it can print up to 12000 pages while a TN450 toner only prints up to 2600 pages.
Meanwhile, if a cartridge is not inserted into a drum unit, the cartridge is small to install into your printer to cause an unfit issue. Also, the cartridge will be not suitable if it is put into a wrong drum unit. A drum unit is designed for specific toner cartridges, like DR420 drum and TN450/TN420 toner.
How to reduce cost of TN450 toner cartridge?
It is known that original TN420 or original TN450 is expensive for most of people, although OEM TN450 has a lower cost per page. In case of this, consider toner cartridge is necessary, and v4ink is even more worth considering as one of best compatible consumable products brands. Likewise, we compare the cost per page of original and v4ink to prove it.
| | | |
| --- | --- | --- |
| | OEM Brother TN450 1 Pack | v4ink Brother TN450 1 Pack |
| Price | $58.49 | $19.99 |
| Page Yield | 2600 pages | 2600 pages |
| Cost Per Page | 2.2 cents | 0.8 cents |
It is proven that v4ink black compatible toner replacement for the high yield TN450 costs less and less than the original. Besides, all products are auto-produced strictly under production standard and all batches are sampled for producing tests, such as printing quality inspection, lift test, endurance test, to ensure they deliver the same high-quality prints you need.
---
Troubleshooting of TN450 Cartridge and DR420 Drum
There are the solutions to problems commonly encountered by people using the combo pack (TN450 toner and DR420 drum). Hope these can help you.
What should I do if the printout is fade?
Please take out the cartridge and gently shake it from side to side to distribute the toner, and reinserted the toner into the drum unit. Then slide the green tab on the top of the drum unit 3-5 times to clean the corona wire. Notice: the green tab should be in the original (left) position of the drum unit after operation.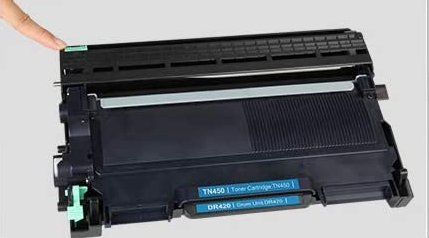 What should I do if TN450 toner is not recognized?
If your printer prompts "No Toner" error message, make sure the protective cover and sealing tape of the cartridge are removed, and reinstall the TN450 into DR420 drum in place. Please follow the above installation guide step by step.
If the error message is "Toner Low", please confirm if the cartridge is used up and shake the cartridge from side to side to spread the toner evenly, and prepare a new cartridge to replace.
When the printer displays "replace toner" warning and the cartridge is new, you should check if the reset gear of the cartridge is in the correct position. The following video can help you.
What should I do if DR420 drum is not recognized?
If the new drum is not reset, the error message "replace drum" or "Drum End Soon" will continue to appear. Follow the video to reset the drum counter can help you solve this problem. Notice: Please operate according to your printer model.
Hope the information can help you smoothly use TN420 / TN450 toner cartridges and DR730 drum unit. If you have any questions, please contact us by email: .
Related Products