V4ink Knowledge Base
Updated: July 17, 2022
How to install HP 48A CF248A toner Cartridge?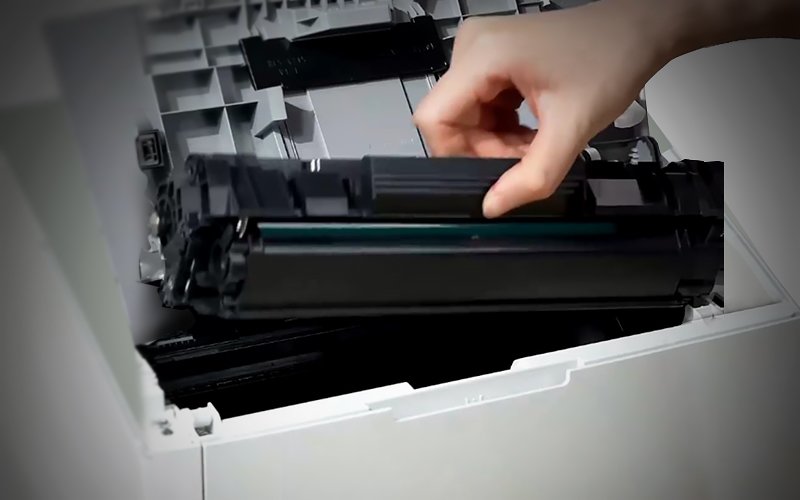 Hp LaserJet Pro M15 printer is the perfect parnet with office work, which can provide you with high-quality professional black-and-white documents, solve various printing problems for you. With v4ink compatible HP 48A toner cartridges, you can save more money and get more printing pages. Let's have a look:
HP 48A CF248A Toner Cartridge at a Glance
HP 48A (Replaces CF248A) which is standard yield black toner cartridge, prints 1,000 pages per cartridge.
Compatible for Hp LaserJet Pro M15a, M15w, M16a, M16w and Hp LaserJet Pro MFP M28a, M28w, M29a, M29w series printer.
When should I need to replace the 48A cartridge?
If the print quality becomes poor, the print color becomes lighter and printhead cleaning or rocking the cartridge did not work, it means you need to replace the cartridge.
How do I install / replace 48A toner cartridge?
It only takes four steps to put the HP 48A cartridge into the printer, and this installation guide can apply to LaserJet Pro M15, M16, MFP M28 and M29 series printers. Let's follow step by step:
Step 1. Gently shake the toner cartridge from side to side to distribute the toner.
Step 2. Entirely pull out the sealing tape from the toner cartridge.
Step 3. Remove the orange protective cover from the cartridge.
Step 4. Install the toner cartridge in accordance with the correct slot into the printer.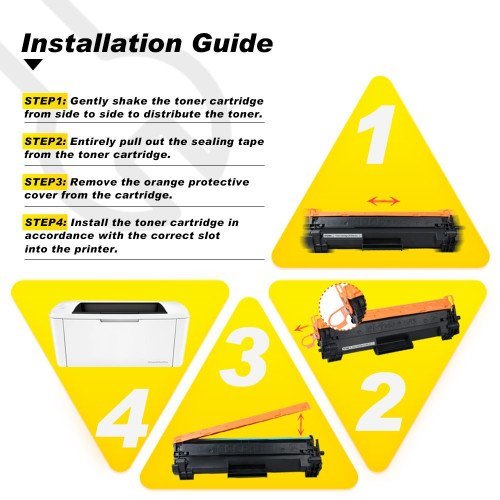 What is the life circle of the HP CF248A Toner Cartridge?
HP CF248A can last up to 24-36 months in their sealed packaging.
For the satisfactory printing outcome, we recommend to use the toner cartridge within 18 months. If opened and installed, the cartridge should be consumed as soon as possible lest the humidity and temperature around will impact the quality. Besides, storing the unopened cartridge in a dry and cool area is necessary for future use.
How to extend the serive life of the HP 48A cartridge?
The use of printer cartridges is indeed a huge cost for users. Long term use is even more expensive than buying a new printer. The smartest way is not only to buy a compatible toner cartridge, but also to extend the service life of the toner cartridge, which can save you a lot.
Here is a simple way for you to extend the sevice life of any toner cartridge - shake the toner cartridge side to side.
HP 48A Toner cartridge uses powdered toner. Over time, the powdered toner in the cartridge will agglomerate and unevenly distributed, resulting in toner waste. To extend the life of the toner cartridge, you need to remove the toner cartridge from the printer regularly, shake it to redistribute the toner, and then reinstall it.
If you have any further questions during using HP 48A Toner, please feel free to contact us with email: support_team@v4ink.com or join our Facebook group to get more details and promotion of our products.
Related Products